List of Zahir Software Prices
Zahir Online
IDR579 Thousand5 User / Month
Subscribe
Online and Mobile Access
Field of Business Services, Trade, Non-Profit & Manufacturing
Purchase and Sales Transactions
Price and Order Offer
Accounts Receivable and Payable
Production process
Record Operational Costs
Monitor Goods Mutation
Profit Turnover Dashboard
Zahir Essential
On Premise
Offline and Online Access
Business Services, General Trading & Distribution
Purchases & Sales
Managing Debt and Receivables
Managing Inter-Warehouse & Branch Inventory
Managing Per Department and Project Budgets
Inventory Adjustment, Stock Opname.
Managing Fixed Assets
Zahir Professional
On Premise
Offline and Online Access
Contractor, Trade & Production Business Fields
PR, PO, SQ, SO dan Invoice
Managing Debt and Receivables
Managing Inter-Warehouse & Branch Inventory
Inventory Adjustment, Stock Opname, Production Process.
Manage departmental and project budgets
Managing Fixed Assets
Zahir Enterprise
Large Scale Business Fields Like Manufacturing
Procurement of Goods (Purchase Request, Purchase Order, Sales Quotation, Sales Order)
Managing Debts
Manage Stock Complete
Multi facility
Assembly, Disassembly, Production, & Stock Opname
12 Hour Free Training
Zahir On Premise
On Premise
Offline and Online Access
For medium & large scale companies.
Adequate IT infrastructure
Implementation Assistance
Premium Support Service
Data can be placed on your own server
Up to 20 user
Zahir Enterprise Plus
ERP Software Solutions and Inter-Branch Online Applications
Inter Branch Online
Complete Management of Inventory
Procurement of Goods (Purchase Request, Purchase Order, Sales Quotation, Sales Order)
Complete Multi Facilities
Priority Support Services
VIP Training
Zahir Report Server
Web-based Support Application to monitor Business Analysis Reports and Graphs
Favorite Reports and Graphs
More than 200 reports
Various Business Analysis Charts
Reminder and Agenda in Calendar form
Export to PDF and HTML
Zahir POS 6
Supporting Application for Recording Business Transactions via Smartphone and Tablet
Easy, Fast and Safe
Managing Debts
Manage Stock Complete
Complete Multi Facilities
Assembly, Disassembly, Production, and Stock Opname
Zahir Sales Order
Application Supporting Sales of Sales Orders (Sales Order) in Mobile
Inter Branch Online
Complete Management of Inventory
Procurement of goods
Complete Multi Facilities
Priority Support Services
| | | | | | |
| --- | --- | --- | --- | --- | --- |
| Fitur ZAHIR ACCOUNTING 6 |   | Zahir Simply | Zahir Essential | Zahir Professional | Zahir Enterprise |
| A. Modul Standar |   |   |   |   |   |
| A1. Service Transaction |   | | | | |
| A2. Inventory |   | | | | |
| A3. Project |   |   | | | |
| A4. Departement |   |   | | | |
| A5. Fixed Asset |   |   | | | |
| A6. Giro Mundur |   |   | | | |
| A7. Return |   |   |   |   | |
| A8. Assembly |   |   |   |   | |
| A9. Disassembly |   |   |   |   | |
| A10. Inventory Movement |   |   | | | |
| A11. Cash and bank |   | | | | |
| A12. Bank Reconciliation |   |   | | | |
| B. Data Facility |   | Zahir Simply | Zahir Essential | Zahir Professional | Zahir Enterprise |
| B1. Data Classification |   | |   | | |
| B2. Serial Number |   |   |   |   | |
| B3. Lot Number |   |   |   |   | |
| B4. Account Alias Name |   |   |   | | |
| B5. Product Alias Name |   |   |   | | |
| B6. Item Group |   |   |   |   | |
| B7. Standard Term of Sales |   | |   | | |
| B8. FIFO and LIFO |   |   |   |   | |
| C. Multi Facility |   | Zahir Simply | Zahir Essential | Zahir Professional | Zahir Enterprise |
| C1. Multi-phase Project |   |   |   |   | |
| C2. Multi-Unit |   |   |   |   | |
| C3. Multi-Currency |   |   |   |   | |
| C4. Multi-Warehouse |   |   | | | |
| C5. Multi-Tax |   |   |   |   | |
| C6. Multi-Price |   |   |   |   | |
| C7. Multi-Discount |   |   |   |   | |
| C8. Multi-Fraksi |   |   |   |   | |
| C9. Multi-Sales Commission |   |   |   |   | |
| C10. Multi-Shipping Cost |   |   |   |   | |
| C11. Multi-Delivery Order |   |   |   |   | |
| D. Report Facility |   | Zahir Simply | Zahir Essential | Zahir Professional | Zahir Enterprise |
| D1. Report Unit |   |   |   |   | |
| D2. Report Design |   |   |   |   | |
| D3. Custom Aging Schedule |   |   | | | |
| D4. Export Report |   | | | | |
| D5. Clickable Report |   | | | | |
| D6. Tax invoice |   | | | | |
| E. Extra Facility |   | Zahir Simply | Zahir Essential | Zahir Professional | Zahir Enterprise |
| E1. Consignment |   |   |   |   | |
| E2. Purchase Request |   |   |   | | |
| E3. Purchase Order |   |   |   | | |
| E4. Sales Quotation |   |   |   | | |
| E5. Sales Order |   |   |   | | |
| E6. Business Analysis |   | | | | |
| E7. Reminder |   |   | | | |
| E8. Chart |   | | | | |
| E9. Predictive Entry |   |   |   |   | |
| E10. Auto-Purchase Order |   |   |   |   | |
| E11. Synchronization |   |   |   |   | |
| F. Extra Transaction Facility |   | Zahir Simply | Zahir Essential | Zahir Professional | Zahir Enterprise |
| F1. Transaction Proof Number |   | | | | |
| F2. Delivery Status |   |   |   |   | |
| F3. Delivery Notes |   |   |   |   | |
| F4. Import Cost Distribution |   |   |   |   | |
| F5. Recurring Transactions |   |   |   |   | |
| F6. Final Discount |   |   |   |   | |
| F7. Production |   |   |   | | |
| G. Akses Data |   | Zahir Simply | Zahir Essential | Zahir Professional | Zahir Enterprise |
| G1. Offline access |   |   | | | |
| G2. Online Access |   | | | |   |
| G3. Access Mobile Apps |   | | | |   |
| H. Concept of Package Purchases |   | Zahir Simply | Zahir Essential | Zahir Professional | Zahir Enterprise |
| H1. Pembelian Putus |   |   | | | |
| H2. Berlangganan |   | | | |   |
| Package Price (IDR) |   | IDR 99 Thousand/Month | IDR 6 Million/ 1 user | IDR 9 Million/ 1 user | IDR 25 Million/ 2 user |
| Per User Addition Fee |   | IDR 99 Thousand | IDR 3 Million | IDR 4 Million | IDR 25 Million/ 2 User |
| Cost of Adding Company Data |   | IDR 99 Thousand | IDR 3 Million | IDR 3 Million | IDR 3 Million |
| Annual & Service Fees |   | – | IDR 3 Million | IDR 3 Million | IDR 3 Million |
| Free Training |   | – | 4 Hours | 6 Hours | 12 Hours |
What Type of Business Are You in?
Find the best solution that we provide for your business
Why Zahir is the Right Choice for You
The advantages of Zahir products
Determining Better Business Decisions
You are easily understand in reading financial statements while taking business and also making business decisions immediately because the business analysis graph display is shown to created more flexible and informative.

Facilitate Complete Inventory Management

Zahir Accounting 6 helps you manage the incoming and outgoing items automatically. The purchase and sale of goods directly add and reduce the stock and COGS is automatically created. It is also equipped with the feature of grouping items and stock checking.
Manage Payable and Receivable Easily
All payable and receivable due and post dated checks will be displayed in an easy reminder and graph interface. With this facility, you will not have problem bother to remember when a current account will be cashing or your business payable are due.
Knowing Realtime Financial Conditions
There is no time limit & space for business that is essential because anytime & anywhere financial reports can be monitored safely on your mobile device or computer without anything left behind, while data is stored in the office.
Work becomes more exciting
Accurately designed to produce an attractive user interface to manage business and make financial reports more exciting with Zahir Accounting 6.
User Friendly For Everyone
With no accounting background, you can use Zahir Accounting easily. You don't need to understand accounting because journals and financial statements will be available on their own and automatically created.
What solutions do you get?
The following solutions will be obtained:
Access data online & offline
Mobile device access & notification support
Data processing is done directly by the user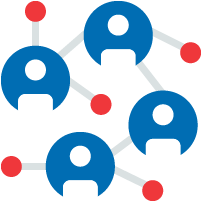 Access between branches online
Control inventory between warehouses & branches
Control accounts receivable and accounts payable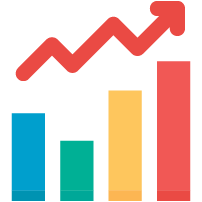 Monitor activities and profit and loss department / project
Control the authority of access rights of each user
Manage fixed assets and automatic journaling
Facilitate decision making
Join with 70,000+ users of Zahir Accounting software!